Choosing the right health insurance network is kind of a big deal, because you are stuck with that choice all year (unless you have a Special Election Period) until next open enrollment.
One of the most often asked question is, "What is the difference between Select Value and Select Med" and which one should I choose.
Select Value
Select Value is SelectHealth's smaller network created to serve Utah, Salt Lake, Davis and Weber Counties. It is a smaller network then Select Med, but still boasts plenty of service providers.
Select Value has 14 participating Hospitals and 3,800 participating Physicians and Providers.
Select Value is also the cheaper of the two options. Most clients save approx $100 per month by choosing Select Value over Select Med.
Select Med
Select Med is the larger of the two networks with 38 participating hospitals and over 5,700 participating physicians and providers.
Select Med offers coverage in the entire state of Utah, including all rural communities.
In fact, for most rural areas of Utah, Select Med is your only local option for health insurance.
* participating hospitals, physicians, and providers as of 2017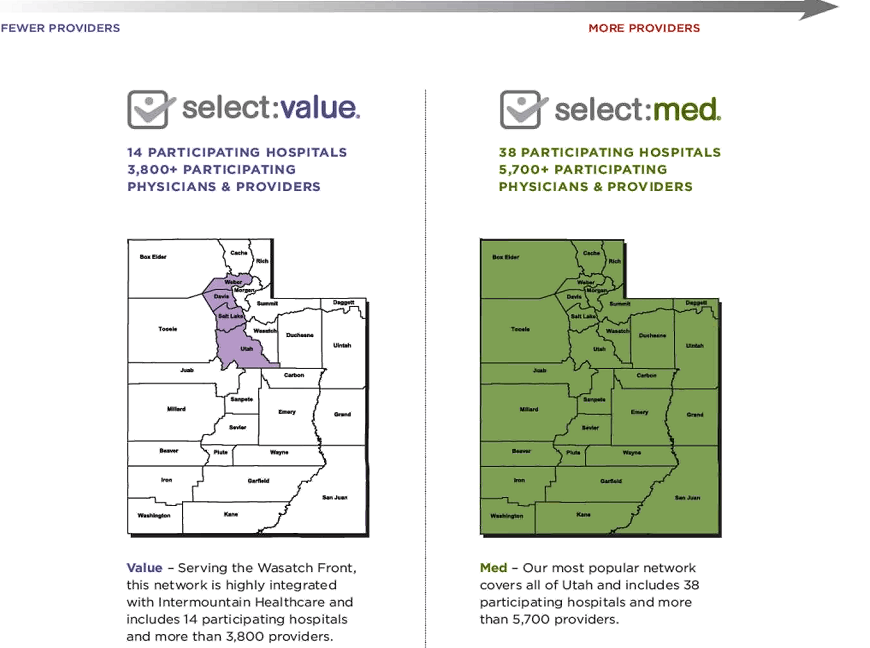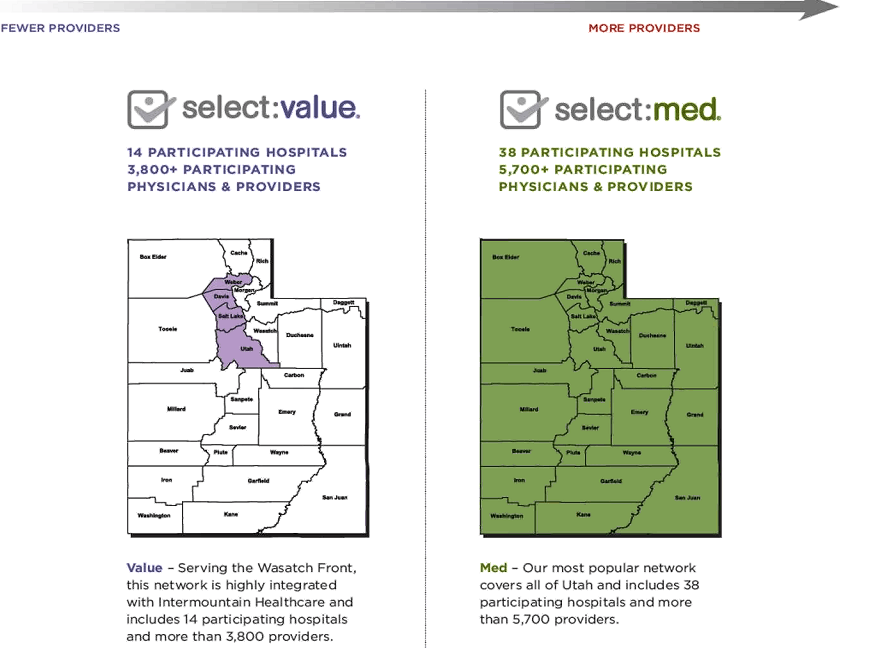 How do I choose?
Location is your first qualifier. If you live in any of the four major metropolitan areas of Utah, you can choose either Select Value or Select Med. If you live outside of those areas, you are limited to Select Med.
The next question I always ask is, "Do you have a specific doctor you need to see?" If so, look them up and see which network they accept. I also advise that you call the office to double-check. Most often, the website is accurate, but for your own peace of mind, a quick phone call won't hurt.
Most of the time, these two questions give our clients enough info to make their decision. But if you need, you can also check which Hospitals and Clinics accept either Select Med or Select Value.
Price is the next consideration. If your doctor and clinic/hospital accept either plan, then you can choose whichever plan works best for your budget. As I said earlier, Select Value will save you anywhere from $50 – $150 per month over Select Med.
Can I talk with someone about my options?
Of course, you can. We're here to answer your questions and help you take full advantage of the options available to you. Pick a time that works best for you, and we'll help get you taken care of.